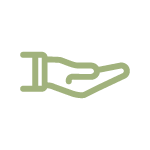 The gospel is the story of Jesus coming as a servant to bring renewal. He served unto death, so that others could experience God's redemptive life. Through the cross, we've been invited to reflect the servanthood of Jesus to Christ, the church, and by building each other up. We serve out of joy driven by love, calling, and need.
Through faith in the gospel of Jesus Christ, we have been received adopted into God's family and received new identities as His sons and daughters. As part of his family, we freely enjoy intimacy with Him through the work of the gospel, finding it a privilege to disciple, pray for, and serve our new family.
We are sent by Christ as missionaries to the world, just as he was a missionary to us. In Christ, we have new life and our sins are not counted against us. Jesus sends us to live a life of reconciliation to God, others, and creation by being filled with the Holy Spirit.
We come together weekly to worship and learn from the word of God. It is a chance for us to celebrate the work that God is doing in the midst of His people in DTLA. Anyone is welcome to join us and come as they are. Tapestry has ministries for members in every walk of life from our youngest toddlers to our married couples.
Cells are an intentional space where we gather in small groups throughout various parts of the city to walk together in life. We spend time sharing meals, reflecting on the Word of God, and praying for one another so that we can live out our gospel identities within and beyond our church.